April 17 2017
I was born under a mango tree
By Michelove
| From : Belle Glades, FL | School :
Glades Central High School
Hello, everyone. My name is Michelove Philemon,
and I would like to talk about my story. I am from a city in Haiti, and I was born on December 20, 1999.  I was born under a mango tree. There was a doctor there when my mom was pushing me out. Then I was there, and now I'm here.  I'm so happy to be alive, because I was almost dead. I say thanks to God for saving my life so I can be here today.
I thank my uncle for giving me this wonderful name. He gave it to me the day I was born. The day I left my country I was at my house where it smells so wonderful like flowers, and it feels so warm. Sometimes I could hear the birds singing. When I came to the U.S, I was 15 years old, and I was so happy to come to the U.S.  Before I came I was living with my mom and brother. My father was already here in the U.S. trying to do what he could to help us come here to the United States. When I left my country it was on Tuesday morning at 2:00 and I got to the United State that day at 11:52. That first day, my mom, my brother and I arrived at the Miami airport.  My father and his friend were the ones who came to get us.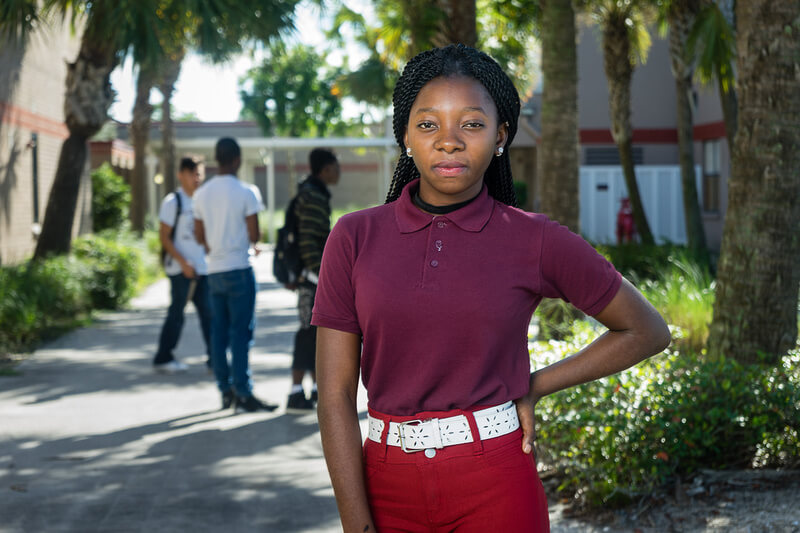 Most of my family had come to the U.S. before me. My grandfather and cousins were already here in the United States, and I was to be here with them.  I never knew the United States was so wonderful. I knew I would be happy, because I saw a lot of things that I could learn. I want to learn everything I can to be a doctor so I can take what I learn to help my country.  I don't want people to think I don't like my country, because some of people believe in voodoo. Some believe of God. Before I finish my story I would like to tell all the people of America that God loves us, and I'm so happy to be here.
Love, Michelove