April 19 2023
You cannot protect yourself from sadness without protecting yourself from happiness.
By Sabine Michel
| From : Haiti | School :
Glades Central High School (FL)
  My name is Sabine Michel, I'm Haitian and I'm 17, I'm kind, hardworking, smart, polite, respectful, and I'm always looking for  good things for myself and others.  I love to dance, and I have danced since I was 5 years in preschool. I live in Belle Glade, Florida with my siblings and my uncle . As you know that everyone in life has a story, then here is mine.
GOU-DOU-GOU-DOU In January 12, 2010.When I was 10 years old, I was in Haiti, and there was an Earthquake that brought my family in gloom because I had my step-sister who died at the age of 18 on January 13. In 2015 my parents gave my siblings and me the opportunity to come to the united states with a visa. I came to the United States in February 6,2016 for three reasons. Firstly, It was because I was pregnant, secondly gunmen threatened my father and his business, Thirdly to have a better education. My parent really could not stand that pressure so they decided I would live the country to be safe. I came to the United States while I was pregnant, I gave birth to the baby in May 2016 ,unfortunately it was a Caesarean. I used to go to Haiti back and forth with my baby but I decided to let him live with my mom in Haiti, because my mom didn't want me to lose my school days by keeping the baby. I don't see how I could do this without my mother, I thank my God, because it's not any mother who would do this for her child, sometimes I sit down and I cry a lot, because it's my fault that all this is happening God will say the rest.
In january 2017, I had decided to return my baby here, because it was too difficult for my mom, he did not really have time because she traveled often, now my baby lives with me. I'm working so hard to finish my studies and by keeping him, my aunt Jacqueline Joseph helps me.
My father is a salesman in Haiti and has a large auto parts store, and my mother is a saleswoman. The Almighty God blessed my family.
My goal in the USA  is to do my best in school and to get my diploma.
After my delivery I continued with my studies in Glades Central High School, I do my best to have good grades at school, I passed my SAT test in 11 grade, and my PERT test that makes me proud, and I spent my classes.
Now I'm in 12 grade my goal is to pass all my classes and go up  more my GPA, to have a nice diploma.
After I will be graduate I would like to attend Palm Beach State College and then continue my education at Florida Atlantic University (FAU)..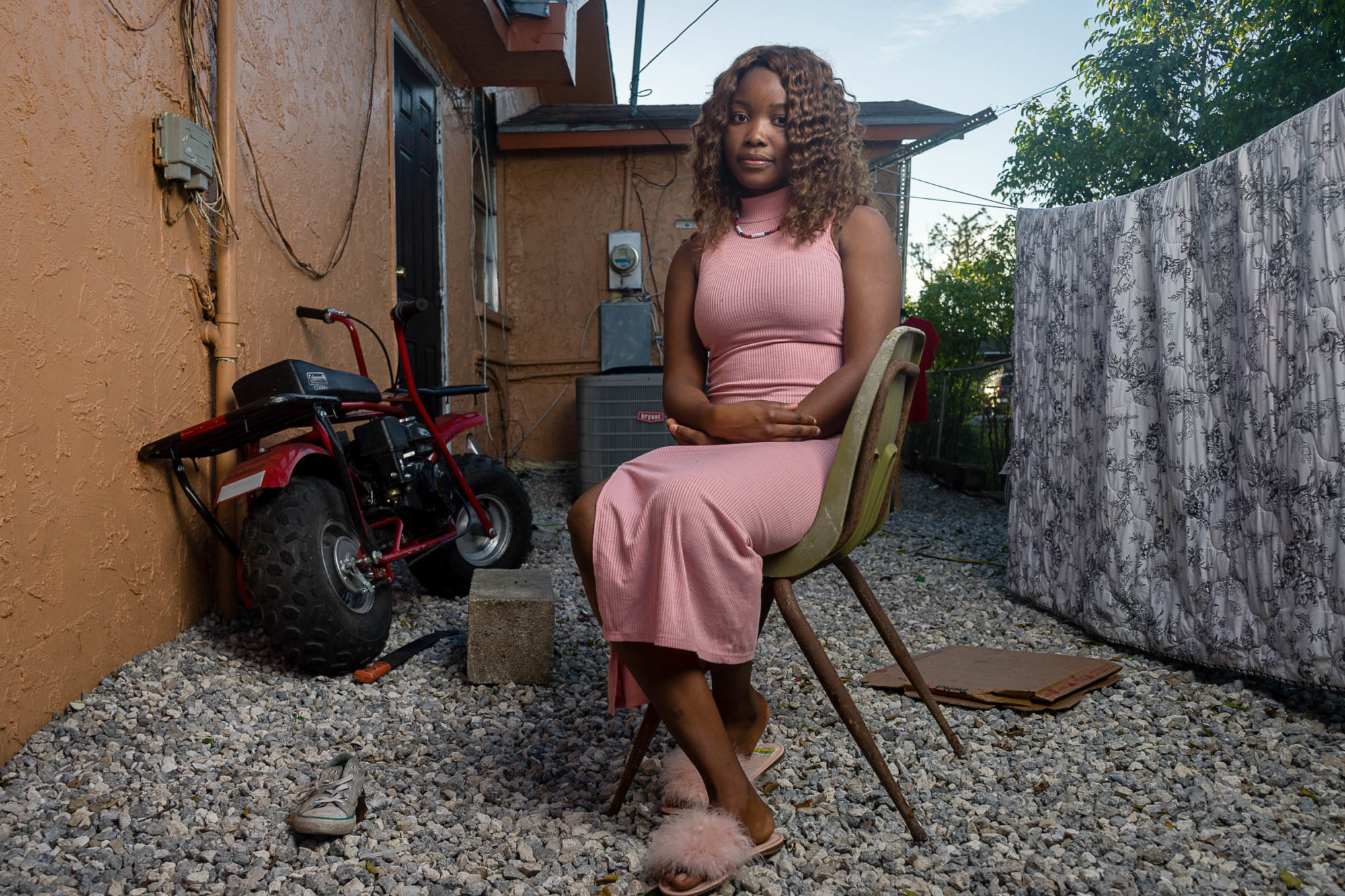 My life in America wasn't  easy.
It was during the month of November that my mother decided to come live with us but we were alone at home with my uncle, you already knew that when you don't live with your parents it is a little difficult, sometimes it is my brothers who were going to work to give me money, it's hard to see young boy working in the field. my brothers are young but they do their best to give me things when I need them.
My father is a salesman but the American money is too high in my country he could not buy it all the time to send me money. Sometimes at my father's auto parts they demanded money;otherwise they said they would kill him.
I was in a house with my aunt when I was pregnant now I live in a trailer with my siblings now my mom decides to come live with us. Some people might say it's good enough to live in that trailer, because of the low cost compared to other housing. However it's a disadvantage for us. First of all, it's really cold even when it's hot. We are often scared about hurricanes too. Because Hurricanes can inflict serious damage on trailer.
Now my mother and my siblings are there my life is a lot more or less, but i still miss my father because living with mother without father is not really good.
All that I told you is not all my story but I stay there because I think it will have to come….
    It was a pleasure for me to explain my life and why I am in the United States ….
                                                                     THANK YOU……