June 17 2018
My life in Guatemala was very happy
By Guerli
| From : Winter Springs, FL | School :
Winter Springs HS
My Life in Guatemala
My life in Guatemala was very happy because over there I had my whole family and we'd go play soccer.  When we finished playing soccer we'd go watch movies and we'd have a good time with the whole family and later we'd go to sleep. In the morning me and my cousins would go with my grandfather out to the pasture with the cows and later we'd come back to our houses. Me and my cousins would go play soccer and we'd have a really good time and when we were done playing, we'd go eat.
And I would have a great time and there were a lot of parties in December, we'd
celebrate Christmas and they'd sell fireworks. We'd buy these fireworks that
we called triques. We'd buy those and then with my other friends we'd go fire them and we'd have a great time. Then we'd go to a little house where they had the saint and they'd give us sweet arroz con leche and bread and we'd have a great time.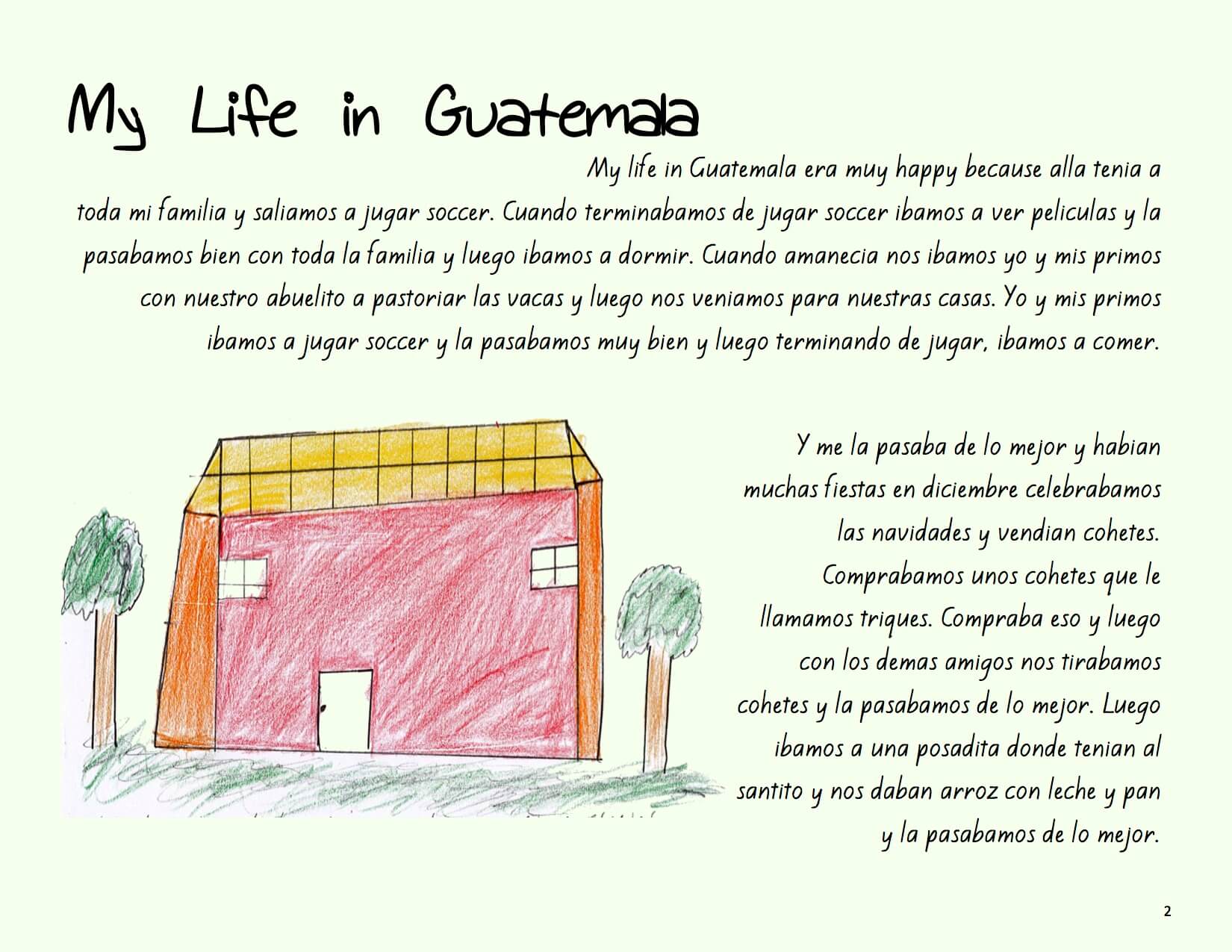 When it was April we'd celebrate Easter week and Easter on Saturday. We couldn't eat red meat, we could only eat fish. At night we'd go play at what we called the lottery and the one that got 5 figures would get a prize, a thing or a skillet. After when we were done we'd go to our houses and me and my cousins and my uncles would all go to sleep. In the afternoons we'd go play soccer and we'd have a really good time. When my dad sent money we'd go pick it up in a town called Cuilco. My mom would buy her things and she'd give me some 20 0r 50 so I could buy the things I need for school and with what was leftover I bought some pencils. When we got back my mom would make food and me and my brother would watch her cook. When my sister turned 15 years old we celebrated her birthday. We invited all our family and made tamales and some empanadas and we had a great time.
And then the next celebration in January is the Carnival Festival. Students parade with their costumes and come out to play in the village and we invite other villages to come play. They'd place bets and the one that got first place would win the money and the one that got second place would get some of the money. At night there was dancing and we'd have a great time with my
cousins.
In September there was a festival we called the Festival of St. Andrew where the ferris wheel would come and they'd sell candies. It's like a fair, there's a ferris wheel, candies, lots of games and I'd have a great time with my family. At night there was dancing where lots of people would come and during the day there'd be a horse show and cock fights where a lot of people would go and bet money.
And my life was very happy in Guatemala. In wintertime we'd plant corn and when it was growing we'd put stuff on it and when it was grown we'd plant beans and when the corn was dry we'd harvest it and take it home and take off the leaves and grind it up.

Time went on and then my cousin asked me if I wanted to come the United States and I told him I was going to tell my father and I'd let him know. I talked with my father about coming to the United States and he said yes. And then I told my mom and my brothers and sisters that I was going to come here to the United States and then they started crying because I was too young to come over.
My Life in the United States
Well my life in the United States is happy but not as much as in Guatemala.
In Guatemala I had almost my whole family but here I do have my dad and
some uncles. When I came here from Guatemala it took me a month and 15
days and I miss my dear Guatemala.
I'm working hard at my studies so I can learn English and sometimes when there's no school I go to work so I can make money. That way I can buy what I want and sometimes if I make enough money I'll send some 200 or 100 to my mom and my brothers and my sisters.
And here in the United States I think I'll spend some 5 or 6 years and then go back to Guatemala my dear land where I was born because I miss my Guatemala.
Over here I'm also happy because I have a little bit of family and in the afternoons we'll go play soccer with my family.