October 1 2019
There Is a Story Behind Each Scar
By Floriselda
| From : Guatemala | School :
UC Riverside
There Is a Story Behind Each Scar
Tell me your struggles and how you have faced them, then I will tell you what kind of person you are and what similarities we have.
Life is beautiful, but sometimes it gets worse and it turns out to be like hell, because of problems and some people that make you feel like a piece of trash, like something without value.
I am Floriselda and I am an alien, I am living in a country that is not mine, in a place with a different language to my native one.
I am an alien, just because I do not speak their language.
I am an alien because I do not know their culture.
I do not belong here and that is why I am a stranger.
Some people think I am a criminal, others think I am an uneducated person, however, they do not know anything about me.
A lot of people do not know my story and I do not know why they think they have the right to judge me as they do.
I attended school until my sixth grade in my country Guatemala.
I couldn't continue at school, because of my family's economic situation,
But I am here so far being respectful and responsible as I was taught at home.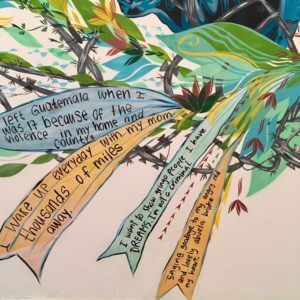 Pain is my Teacher
I never heard an "I am proud of you" from my dad;
I had to get a job when I was thirteen years old.
I grew up seeing violence everywhere,
my home was a hell and I was a slave.
I was a slave to my own fear
and I could not defend my mom from my dad's hand.
I will never understand all of my dad's abuse towards my mom, siblings, and me
but I am sure that those were the reasons that drove me here.
"Aprenda de los errores mija" mi mama decia,
"and you could be a different person some dia".
That means, mistakes are to learn from and not to repeat,
violence is to show you how different you have to be.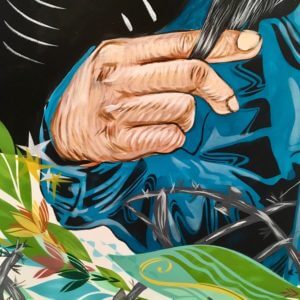 Leaving my Roots
I grew up and now I am 19 years old and look at me.
I am different from others.
I do not see life like others see it.
I know that life is difficult but there is always something to learn from.
I left home when I was seventeen.
I am working, studying and living alone in the city of LA,
so do not come to talk to me about life dude,
do not come to tell me that life is difficult because I already know it,
I've already lived it.
Do not ask me about life's struggles, because you know what?
I have lived more than you think.
I prefer to get advice from you,
I prefer for you to support me and teach me how to forgive others,
because some wounds are still alive.
I wake up every day,
then I realize that my mom is thousands of kilometers away from me.
Saying goodbye was not easy, and when I remember the day that I left home
I could not control the knot in my throat.
I really cannot.
Tears run down my cheek and I felt the same pain from that day.
And I will confess something to you.
Every moment I try to forget my family.
And do not ask me why.
It is difficult to wake up each morning and remember all the laughs and foolishness of my siblings.
It is too difficult to remember all the noises:
the birds, cows, and roosters in the mornings.
Believe me, it is not easy.
Look Forward Dreams, and do not Stop
All those memories and others do not make me be happy, those hurt me a lot.
I would like to go back and live it one more time but I cannot.
I just have those memories that are my motivation to work hard each time.
I have learned that happy moments happen just once,
so enjoy each second, each minute,
each day side by side with your loved ones,
because sometimes life change and just memories and ghosts are left.
I am away, but I have more opportunities now,
I going to help my mom, because she is my motivation to get up each day.
I want to show her that all my crazy ideas and illusions can be real.
I want to show her that I can be a professional person,
that I can get my own house and travel around the world.
I want to show some gringo people that see me as a criminal that I am not.
I am just a dreamer, a dreamer to get a career and go to college,
a dreamer of justice and more opportunities of education
for those that are working hard to improve their lives.
I am just a little bird that wants to learn how to fly,
and then be part of the flock.
I am just a girl lost in the U.S. looking for a better education and a way to help my family for a better life;
without any worry about money for food and for education too.
I have a different background than you,
I do not think like you,
and I see life in a different way than you,
but I am still sure that we have similar purposes.
We want a change, we want a better life for our people.
I want to give my siblings the opportunity that I did not have;
the opportunity to go to college.
I want them to can live comfortably and I am working hard for it.
All the struggles that have passed do not matter;
it does not matter how many times we have to fall,
but we have a purpose and it is what makes getting up again.
The wounds heal in time, but God makes them part of our bodies,
part of our story through our scars.
EN ESPANOL:
Cuéntame tus luchas y cómo las has enfrentado, luego te diré qué tipo de persona eres y qué similitudes tenemos.
 La vida es hermosa, pero a veces se pone peor y resulta ser como el infierno, por los problemas y algunas personas que te hacen sentir como un pedazo de basura, como algo sin valor.
 Soy Floriselda y soy una extranjera, estoy viviendo en un país que no es el mío, en un lugar con un idioma diferente al mío natal.
 Soy un extraterrestre, solo porque no hablo su idioma.
 Soy un extraterrestre porque no conozco su cultura.
 No pertenezco aquí y por eso soy un extraño.
 Algunas personas piensan que soy un criminal, otras piensan que soy una persona sin educación, sin embargo, no saben nada de mí.
 Mucha gente no conoce mi historia y no sé por qué creen que tienen derecho a juzgarme como lo hacen.
 Asistí a la escuela hasta mi sexto grado en mi país Guatemala.
 No pude seguir en la escuela debido a la situación económica de mi familia,
 Pero estoy aquí hasta ahora siendo respetuosa y responsable como me enseñaron en casa.
 Nunca escuché un "Estoy orgulloso de ti" de mi papá;
 Tuve que conseguir un trabajo cuando tenía trece años.
 Crecí viendo violencia en todas partes
 Mi hogar era un infierno y yo era una esclava.
 Era una esclava de mi propio miedo
 y no pude defender a mi mamá de la mano de mi papá.
 Nunca entenderé todo el abuso de mi papá hacía mi mamá, mis hermanos y yo
 pero estoy seguro de que esas fueron las razones que me llevaron hasta aquí.
 "Aprenda de los errores mija" mi mama decia,
 "Y podrías ser una persona diferente algún día".
 Eso significa que los errores son para aprender y no para repetir,
 la violencia es para mostrarte lo diferente que tienes que ser.
 Crecí y ahora tengo 19 años y mírame.
 Soy diferente a los demás.
 No veo la vida como la ven los demás.
 Sé que la vida es difícil pero siempre hay algo de lo que aprender.
 Salí de casa cuando tenía diecisiete años.
 Estoy trabajando, estudiando y viviendo solo en la ciudad de Los Ángeles,
 así que no vengas a hablarme de la vida,
 no vengas a decirme que la vida es difícil porque ya lo se,
 Ya lo he vivido.
 No me preguntes sobre las luchas de la vida, porque ¿sabes qué?
 He vivido más de lo que crees.
 Prefiero recibir tus consejos
 Prefiero que me apoyes y me enseñes a perdonar a los demás,
 porque algunas heridas aún están vivas.
 Me despierto todos los días
 luego me doy cuenta de que mi mamá está a miles de kilómetros de mí.
 Decir adiós no fue fácil, y cuando recuerdo el día que salí de casa
 No pude controlar el nudo en mi garganta.
 Yo realmente no puedo.
 Las lágrimas corren por mi mejilla y sentí el mismo dolor de ese día.
 Y te confesaré algo.
 Cada momento intentó olvidar a mi familia.
 Y no me preguntes por qué.
 Es difícil despertar cada mañana y recordar todas las risas y tonterías de mis hermanos.
 Es demasiado difícil recordar todos los ruidos:
 los pájaros, las vacas y los gallos por las mañanas.
 Créame, no es fácil.
 Todos esos recuerdos y otros no me hacen feliz, esos me duelen mucho.
 Me gustaría volver y vivirlo una vez más pero no puedo.
 Solo tengo esos recuerdos que son mi motivación para trabajar duro cada vez.
 He aprendido que los momentos felices pasan solo una vez
 así que disfruta cada segundo, cada minuto,
 cada día al lado de tus seres queridos,
 porque a veces la vida cambia y solo quedan recuerdos y fantasmas.
 Estoy lejos, pero ahora tengo más oportunidades,
 Voy a ayudar a mi mamá, porque ella es mi motivación para levantarme cada día.
 Quiero mostrarle que todas mis locas ideas y ilusiones pueden ser reales.
 Quiero demostrarle que puedo ser una persona profesional,
 que puedo tener mi propia casa y viajar por el mundo.
 Quiero mostrarles a algunos gringos que me ven como un criminal que no lo soy.
 Solo soy un soñador, un soñador para conseguir una carrera y ir a la universidad,
 un soñador de justicia y más oportunidades de educación
 para aquellos que están trabajando duro para mejorar sus vidas.
 Soy solo un pajarito que quiere aprender a volar
 y luego ser parte del rebaño.
 Solo soy una niña perdida en los Estados Unidos que busca una mejor educación y una manera de ayudar a mi familia a tener una vida mejor;
 sin preocuparse por el dinero para la comida y también para la educación.
 Yo tengo un trasfondo diferente al tuyo,
 No pienso como tu,
 y veo la vida de una manera diferente a la tuya,
 pero todavía estoy segura de que tenemos propósitos similares.
 Queremos un cambio, queremos una vida mejor para nuestra gente.
 Quiero darles a mis hermanos la oportunidad que yo no tuve;
 la oportunidad de ir a la universidad.
 Quiero que puedan vivir cómodamente y estoy trabajando duro para ellos.
 Todas las luchas que han pasado no importan;
 no importa cuantas veces tengamos que caer,
 pero tenemos un propósito y es lo que hace volver a levantarnos.
 Las heridas se curan con el tiempo, pero Dios las hace parte de nuestro cuerpo,
 parte de nuestra historia a través de nuestras cicatrices.