April 11 2023
As long as I have a head on, I will put on my hat.
By KONINGSON DOOLEY
| From : Haiti | School :
Glades Central High School (FL)
          In life, everyone has a story that could be happy or sad. I do not know what words would be more powerful to use in order to make you feel what I feel. I do not think using pathos would be enough to make you feel the electricity that is surging through my body as I'm telling my story, but read or listen carefully to see how life can bring you things that you do not expect.
A quick glance of my life when I was in Haiti compared to now is very different, and some people might want to know why I say that. I lived in Port-au-Prince which is the biggest city in Haiti. I lived with my parents, my siblings and my uncle, and my life was pretty good.  My parents were happy and enjoyed our family; however, an earthquake would bring the whole family gloom. That's when my step-sister Dennings Michel, nicknamed "FABIOLA'', would die at the age of 18. Since then, the family has faced difficulty. In 2016 my father and my mom worked hard to give us the opportunity to come to the United States with a visa. I first came to the United States on March 28, 2016; it was just a visit for 6 days. I enjoyed these days with my brother Klifton and my grandmother Louisana Lebrun.  We went to McDonalds and ate Chinese food. I did not have the chance to go sightseeing anywhere, because I did not have anyone who could go places with me. I went back to Haiti that same week. I suffered from my foot swelling though no one knew what happened to me.  Next I got a high fever and could not eat anything, but God protected my life and gave me the opportunity to heal.  At this time Haiti was in crisis; people died at any time and gunmen threatened my father and his business. They demanded money; otherwise they said they would kill him.  Mom and Dad could not stand the pressure so they decided my siblings and I would leave the country in order to be safe and have a better life with a better future. That's why I came back to the United States in January 2017. I started my life in the United States in a trailer with three little bedrooms I share with my step-brother and my little brother. Sometimes my grandmother also shares this room when she comes to Belle Glade .
Some people might say it's good enough to live in that trailer, because of the low cost compared to other housing. However, it is a disadvantage for my siblings and me.  First of all, it is really cold even when it is hot. We are often scared about hurricanes too. A hurricane can inflict serious damage on trailer parks, because the structures are not secured to the ground and their construction is less able to withstand high wind forces than regular houses. The biggest problem for me was going to school, because I had to go to work in the field in order to pay bills not only me but also for my siblings. It was the first time that I had to do this kind of work. I woke up at 3 or 4 in the morning to go to the field and came back home around 2 or 3 in the afternoon. The work was very difficult for me to do, because it requires that you be strong enough to do tasks such as dropping the cane and cutting; I also worked in the corn — yes the corn. I had to stand for about 2 hours and walk back and forth while pulling the corn. Sometimes I had nothing to eat, and there were overseers who oppressed me and told me to go somewhere else because that was not my place. I remember that one of them said to me: "Why do you come here?'' "You are so young for that work''. I did not say anything, but I kept my words to myself while I was thinking about how they whispered about me.  Most of them thought that I went there to get money and spend it for myself while they had family to help with their own money.They didn't know that I went to work mostly to help my siblings pay bills. This experience made me realize that life can bring you things that you did not expect. I did not let those comments make me feel blue, because I knew where I wanted to go.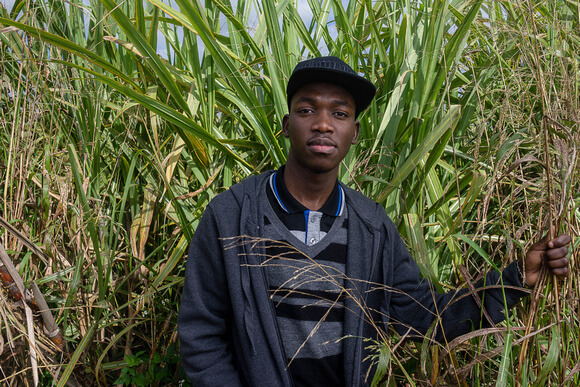 I started to go to school at Glades Central Community High School in March, a few days before my birthday. When I first got to school I was stressed more walking into the school than I was when I first walked into to the United States. A lot of students spoke English and Spanish while I did not know anything at all in either language. I was bullied by a student who said to me that I was not supposed to come to the school, because I was 18. She said I was supposed to be in twelfth grade or college. One reason this was so bad is that she was Haitian; we came from the same country, and she dissuaded me from coming to school.
Anyway, I read about people who had been bullied, and they did not stop trying; they worked hard until they found success. That's my goal also — to have success in my life and to be a reference for my family so that one day they can be proud of me. I want to show my parents that their effort to get me to the united states was not in vain,  especially my father because he helps me a lot to survive while I'm here even though he's in Haiti.
Today, as you guys have the opportunity to know about me, I would like to take this opportunity on behalf of the family Michel to thank God.
I'd like also to thank Mr. Gelin Pierre and Mrs. Joseph Jacqueline for their efforts they made for helping my siblings and me to not say my parents.
In a few words , I don't think my story should have a conclusion by now because I still alive and day by day more things going to be happen but, I stop here to tell you.
I have 3 pieces of advice for you to do when you get discouraged
1) Stay true to our vision, See it again in our mind.
2) Take the long view.
3) Remember, there is no such thing as failure. There is only education.
Thank you all for reading.
God bless you…